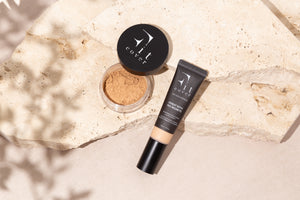 NEED HELP WITH A COLOUR MATCH?
Tap on the 'Match My Makeup' banner on the product page to find your perfect shade!
Shop Liquid
Shop Powder
Sweat Proof Makeup Products

Discover vegan, cruelty-free sweat-proof makeup products
Whether you're all about lightweight, dewy coverage or want to start creating bold, on-trend looks for fun nights out with your girlfriends, you need Fitcover's premium-quality makeup products in your beauty collection.
From mineral-infused liquid foundations that are easy to buff and blend to powder formulas made from 100% natural minerals, explore our makeup range online to discover must-have products that boost your glow and support your skin health. Enjoy
Enjoy flawless, all-day wear with Fitcover's best-selling foundations
Whether working up a sweat in the gym, running around after your kids or getting ready for date night, our liquid and powder foundations provide weightless yet buildable coverage for effortless all-day wear.
Free from comedogenic ingredients that can clog your pores and other harmful chemicals that can dry out your complexion, our formulas are brimming with ultra-nourishing ingredients, helping you enjoy a soft wash of coverage while boosting your glow.
All our sweat-proof makeup formulas are vegan and contain skin-loving nutrients like vitamin E and green tea extract to promote a clear, smooth and rejuvenated complexion. These ingredients also help slow transepidermal water loss — so your skin is infused with moisture to keep it looking and feeling plump and hydrated. We also added silica to our foundation formulas to help absorb sweat and water while reducing facial shine — so you can exercise carefree.
Whether you're dealing with acne, dryness or oiliness, our makeup products are suitable for all skin types and deliver a fresh, youthful glow. Our liquid foundation offers highly buildable coverage if you're all about full-glam makeup looks. In contrast, our mineral powder foundations provide lighter coverage, making them perfect for no makeup makeup days.
Both sweat-proof makeup formulas contain zinc oxide and titanium dioxide — two popular ingredients that provide an SPF15+ barrier — so you can enjoy the sun without UVA or UVB damage.
Not sure which shade suits your skin tone? You're welcome to order our makeup sample packs to test the products before building the full size.
Discover Fitcover's volumising and lengthening mascara
Ready to say goodbye to post-gym panda eyes? Our vegan, cruelty-free sweat-resistant mascara is easy to apply and features a luxe hourglass-shaped wand that lifts, curls and separates your lashes for a full and fluffy set.
Our mascara is also hypoallergenic, suitable for sensitive eyes and contains enriching ingredients that strengthen your natural lashes to promote long-term growth.
Apply your makeup products like a pro with our easy-to-use accessories
A flawless, air-brushed application starts with the right makeup tools. Why not get your hands on our best-selling kabuki brush? With ultra-soft bristles that are gentle against sensitive skin, this brush makes it easy to gently apply your powder foundation in a circular motion to enjoy even and seamless coverage.
If you prefer liquid makeup products, we suggest you opt for our Perfecting Foundation brush — the fluffy head and ultra-soft bristles help conceal imperfections while providing streak-free coverage. Plus, this brush absorbs less product than sponges, so you can extend the lifespan of your sweat-proof makeup formulas.
Fitcover — home to the best sweat-proof makeup in Australia
For sweat-proof formulas that add a soft, luminous glow to the skin, you need Fitcover's makeup products in your beauty bag.
Shop the range today to elevate your everyday routine. While you're here, discover our base makeup collection, stock up on skincare products like our Superfood serum, and enjoy free delivery across Australia on all orders over $99.
Thanks to Fitcover, it certainly does! Bridging the gap between beauty and fitness, we're proud to deliver a range of skin-loving, sweat-proof makeup products that are 100% cruelty-free and vegan. 
Through hours of research, testing and carefully selecting natural ingredients, we've perfected our formulas to deliver on all their promises.
Ours! Fitcover's makeup products contain silica, which helps to absorb sweat and water while reducing facial shine, so your skin maintains its natural glow and radiance through even the toughest warm-weather workouts. 
Our formulas are also enriched with all-natural ingredients that support your skin health while delivering lasting hydration and all-day nourishment.
When it's time to work up a sweat, Fitcover's sweat-proof makeup products have you covered — literally! If you love the intense pigment and a formula that effectively conceals your problem areas, we suggest you opt for our liquid foundation. 
If you prefer a more natural look, you'll love our mineral powder foundation — it's easy to apply, blends like a dream and stays in place all day long. Another must-have is our waterproof mascara. With a few coats, you'll enjoy long, curly lashes, and you can say goodbye to panda eyes for good.
Makeup can look cakey after sweating due to a combination of factors. Here are a few possible explanations:
Heavy foundation — When sweat is mixed with a heavy foundation, it can cause it to separate and become patchy. Instead of a thick foundation, Fitcover's mineral-based foundations offer buildable coverage and contain targeted ingredients that help absorb sweat, moisture and shine when you work out. 
You're using the wrong base products — If you're not using a primer and a setting spray, you risk smudging your foundation and other base makeup products throughout the day — especially if you're working out. Always apply a thin layer of primer to prep your skin and create a smooth, even base, and finish with a spritz of setting spray to lock in your makeup. 
Moisture — If your makeup isn't designed to withstand moisture, your face can look cakey as you sweat. Thankfully, Fitcover has the perfect solution — sweat-proof makeup that's all-natural, vegan-friendly and good for your skin health.