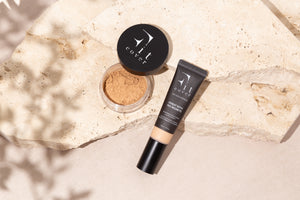 NEED HELP WITH A COLOUR MATCH?
Tap on the 'Match My Makeup' banner on the product page to find your perfect shade!
Shop Liquid
Shop Powder
Makeup Brushes
Discover the best makeup brushes in Australia
Have you ever had one of those days where your makeup just feels right? Where every stroke feels like magic, and your reflection makes you do a double-take? Well, here at Fitcover, we believe every day can be that day. And the secret isn't just in the makeup itself, but in the brushes you use.

Why investing in Fitcover's makeup brushes makes a difference
There's a certain power that comes with knowing you're equipped with the best. Here's why choosing high-quality makeup brushes is a game-changer:
Imagine stepping out, day in and day out, with makeup that looks like a pro did it. Fitcover brushes are your ticket to that level of perfection. Tailored for flawless blends and even coverage, they ensure you get an impeccable finish every time. Forget about uneven patches or tell-tale streaks. With an equally good makeup base, it's all about that smooth, seamless application.
We've all been there: investing in a brush only to see it fray or shed bristles after a few uses. With Fitcover brushes, that's a thing of the past. Engineered for endurance and crafted with precision, these brushes are in it for the long haul. No more mid-makeup surprises with stray bristles on your face!
Beauty choices with a heart
In a constantly evolving world, it's essential to make choices that reflect style and substance. With Fitcover, you're taking a stand with every purchase. Our cruelty-free makeup brushes are here to represent our commitment to compassionate beauty.
Your skin does so much for you on the daily. It braves the elements, endures makeup experiments and always aims to bounce back. The last thing it needs is a rough brush aggravating things. Sadly, not all brushes have your skin's best interests at heart. Cheap, low-quality bristles can be harsh, leading to visible damage over time.
Fitcover brushes, on the other hand, are thoughtfully designed to work seamlessly with your skin, ensuring every application feels as good as it looks.
Flawless strokes from base to finish
At Fitcover, we're all about the details. We're perfectionists with the passion to provide nothing but the best.
Whether you're starting with a skin-loving serum or adding the final touches of glitter, we've got you. From laying down that flawless sweatproof base with a foundation makeup brush to creating those sultry smokey eyes that have a story to tell, Fitcover brushes are your trusty beauty sidekicks. Because with every look you create, we believe you deserve nothing but the finest tools to bring your vision to life.
Effortless shopping plus sweet deals
Choosing makeup brushes online has never been simpler. With clear, detailed descriptions and a team always ready to help, you can confidently select your Fitcover brush. And because we love spoiling our fab community, we reward your trust with free shipping across Australia for orders over $99.
Experience the Fitcover difference
Beauty rituals are intimate. They're a combination of art, self-expression and self-love. At Fitcover, we aim to be an essential part of that routine. With our brushes by your side, every makeup session becomes a masterpiece in the making.
Beyond our awesome makeup brushes and other crowd-favourite makeup products, we have skincare goodies crafted for active ladies. So, after that intense workout or a morning run, we've got your back for that fresh, glowy finish.
Ready to feel unstoppable? We're with you every brushstroke of the way.
Makeup brushes are your go-to tools to apply, blend and set your makeup, giving you that flawless finish we all aim for. Whether you're going for a soft daytime look or a dramatic evening vibe, the right brush can make all the difference.
There are around 40 or even more types of makeup brushes, each with its own special function. From defining those eyes to giving your cheeks that perfect rosy hue, there's a brush for every beauty move you've got in mind. It's like an artist having a brush for every stroke!
Great question! Synthetic brushes are made from artificial materials, often nylon or polyester, while natural hair brushes come from animal hair. At Fitcover, we focus on synthetic, cruelty-free makeup brushes that feel fab and do wonders for your look.
For beginners, we'd recommend a foundation brush, an eyeshadow brush, a blush brush and a blending brush. These will help you nail the basics and experiment from there.
Navigating the makeup brushes world can feel like decoding a secret language. But don't worry, we've got your back! Each brush has its own unique role, designed to make your makeup application smoother, more precise and utterly fabulous. To get the lowdown on which brush to use for what purpose, hop over to our tutorials here. 
To keep things fresh and your skin happy, aim to give your brushes a good clean once a week. They deserve some pampering, too.
It's actually super easy! First, wet the bristles, but keep the handle dry. Next, use a gentle shampoo or a brush cleaner and softly massage the bristles. Rinse them well, gently squeeze out excess water and lay them flat to dry. Doing this keeps them feeling brand new, ready to do the magic all over again.