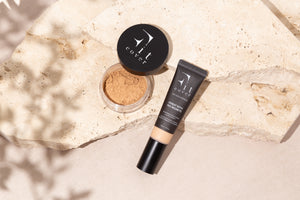 NEED HELP WITH A COLOUR MATCH?
Tap on the 'Match My Makeup' banner on the product page to find your perfect shade!
Shop Liquid
Shop Powder
Sweat-proof face makeup products — where beauty meets endurance
If you're tired of makeup meltdowns and looks that smudge while working up a sweat, meet Fitcover's range of face makeup products. Whether you're hitting the gym, dancing in a club or simply braving a scorching summer day, our collection of sweat-ready face products is your secret weapon for long-lasting beauty.
Explore the range online today to discover a curated selection of pigmented, skin-loving formulas suitable for all skin types — whether you're dealing with oiliness, acne, sensitivities or dryness.
Face and beauty products that help you slay all summer long
If you love lightweight, non-greasy formulas that offer buildable and breathable coverage, you'll never want to go without our liquid and powder foundations. We believe makeup should be sweat-proof and skin-loving, so our formulas are free from comedogenic ingredients that can congest your pores.
Additionally, every face makeup product we offer is enriched with powerful antioxidants and nourishing botanicals that help promote smooth, healthy-looking skin and impart a luminous glow. We also added Silica to our liquid and powder beauty products for the face to help absorb sweat and water while reducing facial shine — so you can squat, flex and lunge while enjoying long-lasting, budge-proof coverage.
Discover face and beauty products designed with skin health in mind
If you find your skin loses moisture throughout the day, our foundations include Olive Squalane — an ingredient that provides relief to dehydrated and sensitive areas by slowing down transepidermal water loss. To take our formulas up a notch, we added Vitamin E and Green Tea Extract to help promote a clear, texture-free complexion, while Zinc Oxide and Titanium Dioxide (which provide an SPF15+ barrier) shield against harsh UV rays that can stimulate premature signs of ageing — think age spots, pigmentation, wrinkles and fine lines.
Our liquid and powder face products are available in nine shades, but if you're unsure what colour best suits your skin tone, we encourage you to order our makeup sample packs and test a range of shades before buying the full product size. You can even select a foundation in a deep tone to double as a contour or choose a shade lighter than your natural skin tone to highlight and conceal. Still unsure? No problem! Contact our friendly team today; they'll help you discover the best beauty products for your face.
Say goodbye to panda eyes with our cry-proof mascara
When it comes to the best beauty products for the face, mascara is a crucial step in every well-rounded makeup routine. Our vegan, cruelty-free, sweat-resistant mascara transforms your lashes from drab to fab with an hourglass-shaped wand that lifts, curls, separates and adds volume. The formula is hypoallergenic, suitable for sensitive eyes and contains natural ingredients that strengthen your lashes to promote long-term growth.
If you're ready to defy the elements and embrace a mascara that stays put while keeping your set fluttery, fabulous and flirtatious, our formula is the ultimate sidekick for lashes that won't back down.
Shop sweat-proof face and beauty makeup at Fitcover today
We're all about delivering the best sweat-proof face products that empower you to conquer any challenge while looking and feeling your best. We understand the importance of a makeup routine that can stand up nicely to heat, humidity and an active lifestyle — so our formulas are brimming with skin-loving ingredients that support your complexion while combating shininess and sweat.
Shop our beauty products for your face online today to elevate your everyday makeup routine with high-performance formulas that complement your on-the-go lifestyle. While you're here, explore our best-sellers, makeup bases, skincare products, serums and body care range to enjoy free shipping on all orders over $99.
To achieve a full-glam makeup look, you'll need the following face makeup products in your beauty collection: 
Primer/makeup base — Primers create a smooth canvas for makeup application, filling in small creases, enlarged pores, flaky patches and uneven texture.  
Foundation — Whether it's a liquid or powder formula, this beauty product for the face helps to even out your skin tone, add coverage and create a base for the rest of your products. 
Concealer — Concealer hides blemishes, dark circles or areas needing extra coverage. It should be a shade similar to or slightly lighter than your foundation. 
Setting powder — This face beauty product helps to set your foundation and concealer, minimising shine and increasing the longevity of your makeup.
Bronzer — Adding a warm, sunkissed glow to your skin, bronzer is typically applied to areas where the sun naturally hits, such as the forehead, cheeks and jawline. 
Blush — Enhance your natural complexion and add a healthy flush of colour to your cheeks with a powder or liquid blush. 
Highlighter — This face product adds a luminous glow to the high points of your face, including your cheekbones, brow bone and the bridge of your nose.


Eyeshadow and eyeliner — Define your eyes, create a dramatic winged effect or add colour, depth and dimension to your lids with these two must-have face makeup products. 
Mascara — Mascara adds volume and length to your natural lashes.
Eyebrow Product — Enhance your arch — you may need an eyebrow pencil, powder or gel to shape, fill in, and define your eyebrows.
Lip Product — Choose a lip product such as lipstick, lip gloss or lip stain in a shade that complements your overall makeup look. You can go bold with a bright red lip or keep the colour neutral-toned if you're rocking a statement eye makeup look.
When it comes to makeup for sweaty skin, it's important to look for products specifically formulated to be long-wearing, transfer-resistant and able to withstand moisture. Fitcover's foundation range was designed with these considerations in mind. Our formulas contain Silica to help absorb sweat and water while reducing facial shine. They also include Vitamin E and Green Tea Extract to slow down transepidermal water loss, contributing to dryness and skin dehydration. 
For lightweight coverage that blends flawlessly with your natural skin, you can't surpass our mineral-based powder foundation —  it's vegan and contains all-natural ingredients that support your skin health while delivering pigment and a soft, luminous glow. Our powder formula is also free from comedogenic ingredients that can clog pores and exacerbate breakouts.