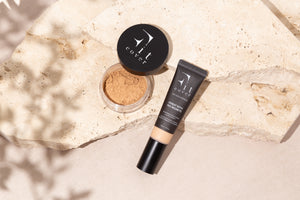 NEED HELP WITH A COLOUR MATCH?
Tap on the 'Match My Makeup' banner on the product page to find your perfect shade!
Shop Liquid
Shop Powder
Face Serum
Face serums — carefully formulated to hydrate, brighten, soothe and nourish the skin — are a must-have in every well-rounded skincare regimen. Whether you have dry, dull, ageing, oily, sensitive or acne-prone skin, Fitcover's serums for the face are here to inject you with a dose of moisture and instant hydration, so you can enjoy an all-over glow. 
Easy to incorporate into your morning and evening routine or to mix with your Fitcover sweat-proof foundation, our face serums are jam-packed with nourishing, antioxidant-rich botanicals like a smoothie for your skin — yes, please!
Discover the best face serums in Australia right here at Fitcover
We added chia seed, avocado and jojoba oil, amongst other fast-absorbing, non-greasy ingredients, to combat dryness, redness and irritation, so you can enjoy a fresh, plump complexion that offers a lit-from-within glow. These ingredients are also rich in Omega 3 fatty acids, helping combat fine lines and wrinkles, reduce the appearance of acne scarring and keep your skin youthful and juicy!
Our face oil serums ooze with antioxidants that help protect your external barrier from damaging UV rays and nasty free radicals — that breaks down your skin's collagen production, resulting in blemishes, dark spots and loose, sagging skin.
Whether you apply it to your face, neck or entire body (yep, you totally can!), our ultra-soothing face serums have been nicknamed "game-changers" for a reason. They're brimming with goodness and will never leave your skin feeling greasy post-application.
All our carefully created formulas are gentle on sensitive areas and kind to problematic skin, helping you heal your biggest concerns while enjoying a product that effortlessly melts into the skin and provides lasting hydration.
Ready to glow up? Our face serums are a beauty must-have
Whether applied before your moisturiser or as a nourishing face primer that preps your skin for our sweat-proof liquid mineral foundation, we're proud to offer the best face serums our beauty and skin-obsessed customers can't stop raving about!
If you're ready to boost your glow and flaunt a fresh, plump, supple complexion, our 5-star rated face serums answer your skin woes. Shop our best-sellers and award-winning formulas online today to enjoy free shipping across Australia on all orders over $99.
Looking for more skin-enhancing products? From our award-winning Superfood HIIT Serum to sweat-proof makeup, primers, makeup accessories and samples that let you try before you buy the full size, we've got you, babe.
A face serum is a lightweight, super-nourishing skincare product that usually offers a water-like consistency and is applied both morning and night and after you've cleansed and toned your skin. 
At Fitcover, our face serums are brimming with soothing and nourishing botanicals that contain all the essential vitamins, minerals, nutrients and fatty acids needed to infuse long-lasting hydration, reduce the appearance of acne scarring and reverse the signs of ageing. 
The best serums for the face help manage specific skin concerns, such as dark spots, acne, dullness, dehydration and signs of ageing. As we get older, our skin begins to lose its radiance, so adding a face serum to your twice-daily routine can help boost your glow by stimulating cell renewal to reveal more youthful-looking skin. 
No matter your skin concerns or skin type, a face serum is equally essential as a cleanser, toner and moisturiser — it's a must-have! 
Ours, duh! Not only do our serums for the face provide an immediate dose of moisture and hydration, but our glow-boosting formulas are carefully created to be fast-absorbing and non-greasy. With non-irritating and mostly natural ingredients, our products will easily adapt to your skincare routine. 
Another benefit? Our face serums also double as primers, so you can nourish your base before you apply any of our budge-proof mineral, liquid and powder foundations.
Yes, absolutely! But apply your face serum first and follow up with a moisturiser to lock in hydration. This also allows the ingredients in the serum to sink into the skin, giving it the best chance of making a noticeable difference. 
Alternatively, you can add a few drops of your serum to your moisturiser, mix them together, and then apply them to your face. Depending on your skin's thirst, you're welcome to use your face serums both morning or night and before makeup application.
While it can never hurt to start early and get ahead of the game, the ideal time to start using face serums would be in your 20s and early 30s. By reaching your mid-20s, your body's natural collagen production begins to decline, meaning your skin laxity is impacted, and signs of ageing appear. 
Adding a serum for the face into your skincare routine will help nourish, hydrate and heal your problem areas, letting you confidently flaunt a bare look.