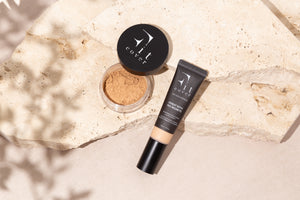 NEED HELP WITH A COLOUR MATCH?
Tap on the 'Match My Makeup' banner on the product page to find your perfect shade!
Shop Liquid
Shop Powder
Makeup Base
Discover Fitcover's selection of base makeup
For primed skin, effortless blending and flawless coverage, our base makeup products make the process seamless. Fitcover's base make up hydrates and illuminates your complexion with nourishing botanicals that improve overall skin texture and soften fine lines and wrinkles.
Our waterproof makeup bases also help create a barrier between the skin and your makeup, making your products easier to apply. Explore the range online today to enjoy free shipping on all orders over $99.
How Fitcover's skincare products prep your complexion for makeup application
Give your skin the TLC it deserves by applying a serum from our range of skincare products as your waterproof makeup base. Formulated to hydrate, brighten and nourish, our sweat-proof makeup base serum is brimming with chia seed, avocado, jojoba oil, and other fast-absorbing, non-greasy ingredients.
Whether you're dealing with dryness, excess oil production or acne, this game-changing serum benefits every skin type, injecting a much-needed dose of moisture — so your follow-up products are easier to apply, blend and buff.
Once you've worked the serum into your skin, you can follow up with our GlowRunner Tinted Hydrating SPF 50 — it's available in a range of shades, so you'll have no trouble meeting your perfect match. This sweat-proof makeup base delivers broad-spectrum protection from harsh UVA and UVB rays, keeping your skin plump and hydrated.
If you love lightweight, sheer coverage and a luminous glow, apply a thin layer as your base makeup and follow up with a concealer to smooth, correct and highlight.
Indulge in the best makeup base products for light coverage and a healthy glow
After prepping your skin with a hydrating serum and applying SPF to prevent sun damage, it's time to apply your mineral base makeup products. We spent years perfecting our sweat-ready foundation formulas, ensuring they contain all-natural ingredients that support your skin health while delivering intense pigment and a soft, luminous glow.
Whether you're hoping to even out your skin texture or cover imperfections and blemishes, our mineral-based foundations are free from comedogenic ingredients that can clog pores and other nasty chemicals that exacerbate dryness, redness and irritation.
From running after your kids to smashing out a workout in the gym, our sweat-proof makeup bases contain silica to absorb sweat and water while reducing facial shine to give the skin a nude, bare feel.
Prefer a powder foundation that offers lighter coverage? You'll love our Active Mineral Powder Foundation. It's made from 100% natural minerals and contains zinc oxide and titanium dioxide, which both provide an SPF 15+ barrier.
Helping the skin stay moist and supple without stimulating oil production, our lightweight, no-melt formula lets you sweat it out worry-free. Not sure what shade will suit your skin tone? You can order a few samples online and put our sweat-proof makeup base to the test before buying the full size.
Shop Fitcover's best makeup base products online today
Creating a smoothening effect that enhances the coverage and longevity of your makeup, there are so many benefits to prepping and priming your complexion with Fitcover's base make up products.
Explore our best-sellers online today to find nourishing and deeply hydrating formulas that boost your skin health while offering buildable coverage and a lit-from-within glow.
A crucial step to achieving a flawless, long-lasting makeup look, here are some steps you can follow to apply your base make up. 
Cleanse — As the first step in your daily skincare routine, make sure you cleanse your face to remove dirt, debris, grime and excess sebum. 
Choose your base — Your base makeup will prep and prime your skin and infuse it with moisture for seamless makeup application. Start from the centre of your face, and blend the product outwards towards your hairline and jawline. 
Let it settle — Give your base makeup a minute or two to sink into fine lines or creases. This will help create a smooth and more even surface for your makeup. 
Apply foundation — Whether you go for Fitcover's liquid or powder-based foundation, you can apply the product with a brush, sponge or your fingers, depending on the level of coverage you desire. 
Yes, applying primer or serum as your makeup base can improve the rest of your makeup application, helping prep the skin and create a smooth, neutral canvas. Whether you're new to the world of beauty or a makeup lover, a sweat-proof makeup base is a crucial first step in every well-rounded routine.
Absolutely! For smooth, soft, supple skin and a subtle wash of coverage, you can easily apply our GlowRunner Tinted SPF 50 before leaving the house. This product glides effortlessly across the skin while protecting against UVB and UVA rays and free radicals that can cause premature signs of ageing. 
If you'd prefer to go bare-faced, our Superfood HIIT Serum can be applied as a base makeup product for all-day hydration and a luminous glow. With a fast-absorbing, non-greasy formula that instantly melts into the skin, our serum is filled with natural ingredients — including chia seed, avocado and jojoba oil — that support your skin health while gently plumping fine lines and wrinkles.