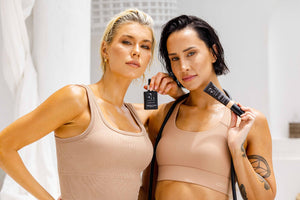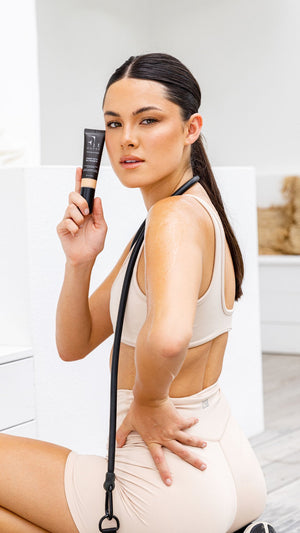 SWEAT & WATER PROOF MAKEUP
Empowerment. Beauty. Wellness. Fitness.
Made for active lifestyles, Fitcover specialises in high-quality, sweat-free beauty products for women that fuel their beauty in and out of the gym without compromise. Discover the first makeup, skincare and Australian beauty products range that is sweat-proof and water-resistant so you can fully embrace an active lifestyle.
7000+ customers rated Fitcover 5 stars!
Read why our customers continue to love and feel empowered by our women's beauty products.
AS FEATURED IN
Active makeup: Sport the best look at the gym
Have you always wanted to look your best while getting fit? Has your makeup been letting you down when it comes to your fitness routine? Fitcover has the solution. Our unique formula and carefully selected ingredients mean that our makeup and Australian skincare products are powerful enough to withstand the toughest workouts and athletic routines.
Lightweight, sweat-proof and nourishing, Fitcover makeup and skincare products are designed for training and sweating. For the first time, you can find makeup and skincare products that work with your fitness routine — not against it. And that's all without blocking pores, causing dryness or aggravating skin issues such as dermatitis or acne. What are you waiting for? Smash those excuses, and embrace an active, healthier lifestyle with Fitcover!
Our mission is to provide quality products that empower you to lead a healthy lifestyle and transform your gym and fitness routines into the best possible experience. Specially formulated to give you effortless, lightweight wear, our foundations and
bases
will be a constant feature in your gym bag.
Does it all sound too good to be true? You can
order samples
of our innovative beauty products online to put our Active Mineral Powder Foundation and Liquid Foundation range to the test. You won't be disappointed — that's a promise.
Get naturally flawless skin
We have combined the best natural ingredients with botanical extracts and minerals to give your skin a luxuriously soft finish. Through careful selection of ingredients and our unique formula, we have created makeup that is not only sweat-resistant but beneficial to your skin. Plus, our products are easy to apply — so you won't have to shave off time in the gym or stand in front of the mirror for an hour every morning.
Made from naturally derived minerals, our
Active Mineral Powder Foundation
helps enhance your skin's radiance with a natural glow, providing a shimmery air-brushed lustre. The slight tint and mattifying finish will brighten your skin to make you look your most radiant. It also absorbs sweat and water fast to reduce unwanted shine and provides a strong seal to help your skin retain its hydration.
Unlike most other women's beauty products, it won't clog pores or leave an oily residue during your workout. Looking for a
Liquid Foundation?
Our long-lasting mineral formula is designed to soothe skin with a protective barrier and preserve a natural look throughout the day.
You are unique, your cosmetics should be too. That's why we provide a
matchmaker service
to help you find the perfect shade of foundation to suit your skin for a flawless finish.
Did you know that our products are vegan-friendly, cruelty-free and suitable for sensitive eyes and skin? Boost your confidence with makeup that is not only sweat-proof and free from harmful ingredients but natural and good for the planet.
Experience the world of Fitcover
and live a radiant life.
The best of all worlds
Our high-quality sweat-free beauty products are designed to last to the end of a tough day and help you look your best whilst embracing your fitness and lifestyle goals. Bridging the gap between beauty and wellness, Fitcover products are specifically made to help you look fabulous all day, every day.
Say goodbye to the burden of removing your makeup before workouts or sporting events and then reapplying it afterwards! Fitcover is designed to take you straight from the gym to the office with effortless wear and a strong confidence boost. Whatever you want to achieve, Fitcover will help you live your best life.
Try one of our best-selling sweat-free beauty products
today, and join the Fitcover movement.
Shop the full Fitcover collection online today
We have the best active fitness skincare and makeup products that go beyond sweat-free foundation. All our cosmetics result from years of research and analysis by our founder, Nova Jane, to combine her two passions: beauty and fitness. Now, our team is on a mission to provide a full selection of women's beauty products to help you achieve your goals and embrace a happy, healthy lifestyle.
Have you tried our popular Superfood HIIT Serum? Nourishing, lightweight and quickly absorbed, the serum can be used day or night as a makeup primer and a nourishing nightly treatment for a hydration boost. It's packed with essential oils, including avocado, chia seed and jojoba oil, to help enhance your skin's natural radiance and protect it from the harsh side effects of our fast-paced, modern lives. Refreshing and easy to apply, it's suitable for even the most sensitive eyes and skin.
We even have a range of accessories, from specially designed ergonomic makeup brushes for flawless foundation application to super soft reusable makeup remover sponges that leave you fresh-faced whilst protecting the environment from the waste created by single-use cotton pads.
What are you waiting for? Check out our full range of sweat-free beauty products now!