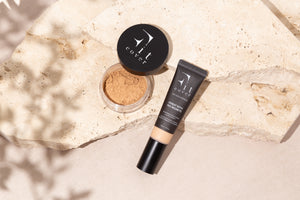 NEED HELP WITH A COLOUR MATCH?
Tap on the 'Match My Makeup' banner on the product page to find your perfect shade!
Shop Liquid
Shop Powder
Makeup Tools & Accessories
You need the right makeup tools and accessories in your kit to achieve easy application and flawless, streak-free coverage. For precise buffing and blending or to mix and layer your creams and powders, discover Fitcover's range of makeup accessories online today and discover high-quality tools perfect for beginners and beauty enthusiasts alike.
How makeup tools and accessories improve the application process
Blending and buffing — Makeup tools and accessories like kabuki and blending brushes are intentionally designed to seamlessly blend and buff products into the skin. They help create a smooth, flawless and even application, ensuring makeup is well-distributed, streak-free and natural-looking.
Precision and control — Fitcover's collection of makeup accessories online includes brushes that allow for precise application in specific areas. Our brushes — lightweight and ergonomically designed so you have unmatched control over product placement — will enable you to create defined lines and precise contouring with just a few swipes.
Product distribution — Our makeup accessories have been designed to pick up the right amount of product and distribute it evenly on the skin. This ensures your makeup is perfectly applied, preventing the excess product from being deposited on the skin, which can lead to a cakey appearance.
Hygiene and sanitation — While you can buff and blend with your fingers, using a makeup brush is far more hygienic. Don't forget to regularly clean and sanitise yours to remove the buildup of product, oils and bacteria, leading to skin irritation and unwanted breakouts.
Beat your face with Fitcover's range of makeup accessories in Australia
For your base products, like foundation and concealer, you can't go past Fitcover's kabuki brush. With a puffy top, an ergonomic handle that offers ease of use and a broad bristle base that's gentle on even the most tender and sensitive skin, this accessory contains 50,000 top-quality synthetic hairs that provide the perfect density for even coverage. If you're ready to speed up the application process and enjoy smooth, even and flawless coverage, you need this tool in your makeup arsenal.
Need a bag to store your makeup tools and accessories? Whether you travel abroad or love to leave a few products in your gym bag, our small yet spacious makeup bag is a must-buy! It is mould-resistant and features a double zipper with ring tabs, so you can grab it without worrying your sweaty or unclean hands will touch the brushes you use on your face. Our makeup bag also includes a transparent cover that lets you see where your lippy or foundation brush is hiding!
Once you've found the accessories you need to perfect your makeup application, it's time to find tools that help you remove it! Swap single-use makeup wipes and harsh chemical cleansers for our remover sponge that melts away makeup, dirt, debris and impurities so you have fresh skin prepped for follow-up products. Our sponge is machine washable, non-toxic and ultra-soft, meaning it's gentle on the delicate skin around your eyes and can be reused daily. Simply wet your sponge with some warm water, add a pump of your favourite cleanser and with a few swipes, reveal a fresh and squeaky clean base that's ready for your serums and moisturisers.
Make application a breeze — shop the best makeup accessories online today
For the perfect tools to add to your makeup collection, look no further than Fitcover's range. Whether you're new to the world of makeup or a seasoned professional, our range of high-quality accessories will simplify and elevate your everyday beauty routine. Once you've found your go-to brushes, explore our best sellers or discover our sweat-proof foundations, makeup bases, serums and other skincare products designed to nourish, hydrate and heal.
If you're new to the world of makeup, here are a few essential accessories you'll need to enjoy flawless coverage and a luminous glow:
Makeup brushes — From foundation and kabuki brushes to lip and eyeliner brushes, these accessories allow you to apply, blend and buff products into the skin for a flawless, streak-free finish. Use a kabuki brush to apply your liquid or powder foundation and reserve small, tapered brushes for blending your lip liner or eyeshadows. Don't forget to clean your brushes regularly! 
Makeup sponge — Once wet, this versatile tool is used for blending foundation, concealer or cream products seamlessly into the skin. They can also be used for powder application, otherwise known as baking. 
Eyelash curler — This tool helps lift and separate your lashes for a wide-eyed appearance. To avoid damaging your lashes, make sure you curl them before you apply mascara. 
Eyebrow brush — An eyebrow brush or spoolie is used to groom and shape your brows, ensuring they are neat, fluffy and well-defined.
Makeup remover sponge — Designed to break down pigments, oils and waxes present in makeup, a reusable remover sponge is an ideal alternative to harsh and drying makeup wipes. Fitcover's best-seller is easy to clean, non-toxic, ultra-soft and smooth against the skin to keep irritation and redness at bay. Once you've removed your makeup, clean the sponge with a cleanser or pop it in the washing machine. 
Remember, these accessories are just a starting point — you can gradually expand your makeup tools and accessoriescollection based on your needs and the looks you love to create.
While you can purchase makeup organisers and vanity cases, Fitcover's makeup bag is a best-seller for a reason! Not only is it breathable and mould resistant to keep your brushes and formulas intact, but it's spacious enough to store your go-to products neatly. This accessory is a must-have in every beauty lover's collection, perfect for travel or to keep in your gym bag or car.