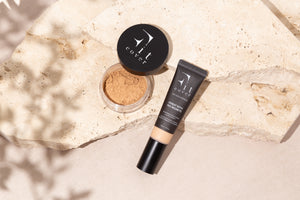 NEED HELP WITH A COLOUR MATCH?
Tap on the 'Match My Makeup' banner on the product page to find your perfect shade!
Shop Liquid
Shop Powder
Body Care Products
Ready to indulge in a blissful pampering session? Enhance your self-care routine with Fitcover's collection of vegan body care products. Whether you're looking for a new tanning kit or a reusable makeup remover sponge that sloughs away dirt, grime and sweat to leave your skin fresh and clean, all our body care products online are not only gentle and kind to your skin but also our planet.
For a luminous, safe and sunkissed glow, self-tan is a must
Boost your glow and channel your inner bronzed goddess with our streak-free tanning mousse. Specifically formulated with skin-firming and toning properties, this sweat-ready body care product allows perspiration to pass through your tan, so it stays in perfect condition through every sweat session. Infused with Melatime to extend the life of your tan, Caffeine to improve skin firmness and Hyaluronic Acid to improve skin moisture levels, our sweat-proof formula helps you achieve a radiant, sunkissed glow in less than one hour! So, if you're ready to look like you've just come home from a week-long vacation in the Bahamas, get your hands on our tanning mousse today.
For flawless, streak-free tan application, you can't go past our tanning mitts. These mitts are washable, reusable, and made with a water-resistant barrier that cushions the skin to protect your hands and cuticles from getting stained. Simply add a few pumps of our mousse to your Fitcover mitt, rub the product into your skin in circular motions and reapply to gain a deeper glow.
Discover cruelty-free body products that elevate your skincare routine
Whether you love a full glam moment or a light wash of coverage, we know that makeup removal is the first step in every well-rounded skincare routine. Rather than using a harsh wipe that contains alcohol and other drying ingredients, fall in love with Fitcover's best-selling makeup remover sponge. This must-have skin and body care product gently removes sweat, dirt and the most stubborn waterproof makeup, leaving your skin fresh and prepped for your follow-up products.
Simply wet the sponge with warm water, add a pump of your favourite cleanser, oil or micellar water and gently wipe makeup away. Our sponge can be used on your face, neck and anywhere else you apply makeup.
Looking to support your skin health from the inside out? Combining health benefits with fitness-recovery properties, our collagen supplement strengthens your hair, skin and nails while promoting gut health and energy levels. As a potent beauty and fitness elixir packed with 18 amino acids, our vegan formula optimises exercise recovery, improves skin laxity, curbs cravings and enhances weak and brittle hair and nails.
Refresh your self-care routine with Fitcover's must-have vegan body products
From tanning kits to collagen supplements and makeup sponges that make removal a breeze, Fitcover's range of Australian-made body products is designed to elevate your self-care routine.
Shop our range online today to enjoy free shipping in Australia on all orders over $99. Looking for more gym-ready products? Explore our sweat-proof foundation and makeup accessories, or sample our best-selling makeup and skincare products before buying the full size.
Using body care products can offer a range of benefits, including: 
Hygiene — Body care products help prevent the accumulation or excess build-up of dirt, sweat, bacteria and odours. 
Skin health — The skin is the body's largest organ, so proper body care, including cleansing, moisturising and exfoliating, helps keep the skin healthy, hydrated and smooth.  
Relaxation — After a long day in the office or running around after the kids, there's no better feeling than treating yourself to a pamper session. Whether applying a self-tanner or an exfoliating body scrub, these practices can help you unwind and rejuvenate. 
Body care accessories are a wide range of products and tools designed to enhance your personal hygiene, skincare and overall well-being. While it depends on your personal preferences, here are some common body care products you may want to add to your self-care routine:
Bath and shower accessories — From loofahs to bath brushes and exfoliating mitts, it's easy to improve your shower routine when you have these body products in your bathroom. 
Face cleansers — Make makeup removal easy with a Fitcover sponge that sloughs away dirt and debris to reveal a clean and fresh base. 
Skincare accessories — Face masks, facial steamers, eye masks and cooling gel masks are a few examples that aid in various skincare routines.
Self-tanners — A self-tanner is a must for a deep and bronzed glow without the sun damage.  
Following a specific order to maximise their effectiveness is generally recommended when using multiple body care products:
1. Cleanser — Use a body cleanser or shower gel to rinse the day away and clean your skin. This is also the perfect time to cleanse your face and remove all traces of dirt and makeup for better absorption of your follow-up skincare products. 
2. Exfoliator — If you're incorporating body exfoliation into your routine, do it after cleansing. Gently massage the exfoliator onto damp skin in circular motions and rinse off with water.
3. Hair removal— If you're shaving or using any hair removal method, it's best to do it after cleansing and exfoliating. 
4. Self-tan — Once you've jumped out of the shower and dried your skin, add self-tan to your mitt and enjoy a long-lasting, full-body glow.