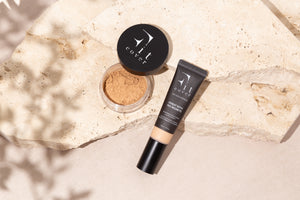 NEED HELP WITH A COLOUR MATCH?
Tap on the 'Match My Makeup' banner on the product page to find your perfect shade!
Shop Liquid
Shop Powder
Makeup Foundation
Made for active lifestyles, Fitcover specialises in high-quality, sweat-proof foundation. We are fitness cosmetics innovators, bringing our customers a high-performance range to fuel their lifestyle and beauty goals without compromise. Discover the first foundation range that is powerful enough to withstand the toughest workouts and sweat sessions.
Sweat-proof and waterproof foundation
Lightweight, sweat-proof and nourishing, Fitcover's makeup and bases are specially designed for training and sweating. They give you a high-quality, flawless finish that will last throughout the day — all without blocking pores, causing dryness or aggravating skin issues such as dermatitis or acne.
What's more, our innovative foundation combines the best natural ingredients with botanicals and minerals to create a cosmetic that's not only sweat-resistant but beneficial to your skin.
Try our bestsellers for yourself
Check out our best-selling sweat-free products, and find out why our customers love the way Fitcover makes them feel.
Powder or liquid mineral foundation?
Our Active Mineral Powder Foundation combines carefully selected minerals to create a unique formula for a flawless finish. Effortless to apply, it gives your skin a luxurious look and enhances your natural radiance. The naturally derived minerals and tint combine a flawless glow and matte finish for a shimmery air-brushed lustre. This innovative sweat-proof powder foundation absorbs moisture fast and melts into the skin, which helps reduce unwanted shine without clogging pores or leaving an oily finish during your workout.
Fitcover's sweat-proof Liquid Foundation offers an effective formulation to give you lightweight, high-coverage application that feels invisible on your skin. Made from vegan-friendly, 100% cruelty-free ingredients, our long-lasting formula will help soothe and hydrate with its innovative protective barrier, providing you with a natural look for the whole day.
Order a sample of our Active Mineral Foundation or sweat-proof Liquid Foundation today and put our products to the test during your next workout!
SPF Foundation
Our GlowRunner Tinted SPF50 Foundation provides the same brilliant sweat-proof coverage as our must-have foundations. Broad spectrum and water-resistant for 40 minutes, it's the perfect accessory for a trip to the beach or for on-the-go use every day! Use it alone or as a primer for a complete makeup routine that offers a healthy, dewy glow. Available in four different shades, it protects your skin from UVA and UVB rays with a smooth, natural finish that doesn't leave you feeling greasy.
Find your perfect match
Looking for a perfect match? Fitcover offers a matchmaker service to help you find the closest shade to complement your skin tone. Simply upload two photos on our website, and our expert team will be in touch with the right shade to enhance your natural radiance and help you buy the best sweat-proof foundation to suit you.
Superfood HIIT Serum
Looking for a hydration boost? Try our Superfood HIIT Serum that customers call an absolute 'game changer!' Nourishing, lightweight and quickly absorbed, it can be used as a makeup primer or a nourishing nightly treatment to enhance your natural radiance and provide a flawless finish. Made from natural essential oils, the Superfood HIIT Serum offers your skin the ultimate refresh.
Foundation accessories
Check out our range of accessories to complement your Fitcover foundation. Treat yourself to a specially designed makeup brush with an ergonomic handle for a flawless application every time. Or ditch the single-use cotton pads and chemical cleansers and opt for our super soft reusable makeup remover sponges.
Buy the best sweat-proof and waterproof foundations online today and enjoy free delivery to your doorstep across Australia when you spend over $99. Plus, we offer ZipPay and AfterPay, so you can shop now and splurge later!
If you lead an active lifestyle or notice that your foundation doesn't last the day in the summer heat, you should use a sweat-proof foundation. Our powder and liquid sweat-proof foundations offer full coverage that's long-lasting but also breathable to stop your pores from clogging under sweat and heavy exercises. We also have a tinted SPF foundation that combines our innovative sweat-proof formula with extra protection from harmful UVA and UVB rays.
No, unfortunately not. If you need a foundation that works with your active lifestyle, not against it, then you'll need to buy a specialised foundation like a Fitcover mineral or liquid foundation.
If you need makeup that delivers an extra strong hold, start with a well-balanced skincare regime that includes our Superfood HIIT Serum that will hydrate your skin and create a smooth canvas for you to paint on. Apply a primer to prevent your makeup from caking before moving onto our Glowrunner Tinted SPF50 Foundation underneath your foundation. Alternatively, purchase one of Fitcover's sweat-proof foundations that give you a natural glow and a flawless finish — without sweating off when you're active.
Have you ever tried to wear a normal foundation to the gym or during your fitness routine? If so, you know you can leave feeling a little clogged with a little cracking and caking. For effortless wear, opt for our sweat-proof foundation, specially designed to combine beauty and fitness to deliver a strong hold to withstand hours in the gym.
Fitcover's unique sweat-proof formula gives you the reassurance that your makeup won't run, regardless of the temperatures outside. Lightweight and breathable, our products are designed to provide you with a perfect finish, whatever the weather.
Our mission at Fitcover is to combine beauty and fitness. Uniquely formulated and carefully selected ingredients make our makeup products powerful enough to withstand the most strenuous workouts and athletic routines. Lightweight, sweat-proof and nourishing, Fitcover products are designed for training and sweating in the gym.
No, it's not. Your sweat contains salts that could break down your makeup. Whilst a waterproof foundation will be able to resist moisture, it's not the same as a product that has been specially created to combat the effects of sweat or prevent blocking your pores.